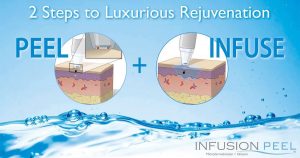 DermaFrac™ is a unique new microneedling system which creates precisely calibrated micro-channels into the skin while simultaneously infusing super active topical serums.
The result is a beautiful skin rejuvenation treatment that has no downtime and typically no pain. A lunchtime facial procedure!
The DermaFrac micro-needles create pathways for introducing the highly active serums into the skin.
There are 6 different serums which can be chosen for the specific skin type and skin condition.
Hydrate – This serum uses Hyaluronic acid. It delivers intense hydration to reduce the appearance of fine lines and wrinkles.
Clarify – The clarify solution features two key active ingredients. Salicylic acid opens clogged pores and neutralizes bacteria within the pores. It reduces pore congestion and breakouts on skin. Lactic acid, part of the alpha hydroxy acid family, exfoliates the outer layer of skin and increases collagen production to minimise fine lines and wrinkles whilst reducing blackheads and whiteheads.
Rejuvenate – This serum has five active ingredients that stimulate fibroblast and collagen production in the skin. They also help relax muscles to prevent wrinkling from repeated muscle movement.
Lighten – This serum utilises Kojic acid to lighten skin by suppressing melanocyte activity and pigmentation. It also has antibacterial and anti-fungal properties.
Growth Factors Rejuvenating Complex- Rejuvenation at it's finest! This is a rich blend of growth factors, moisturisers, peptides and vitamins for younger looking skin.
Vitamin C – Vitamin C 2% Ethyl Ascorbic Acid is an antioxidant that slows the rate of free-radical damage. Free radicals are unstable molecules that damage collagen and cause skin dryness, fine lines and wrinkles.
The precision-controlled DermaFrac hand piece pulls the skin under vacuum into contact with hundreds of micro-needles that painlessly penetrate through the epidermis and into the upper dermis (the papillary layer).
The vacuum permits an all-important even penetration to the full depth of the needle and can be adjusted to make the treatment deeper.
Dermafrac skin exfoliation process reveals the new,  living skin cells that are soft, smooth & receptive to nutrients.
This procedure will also stimulate new collagen and elastin production thus improving fine lines and texture.
A stand alone Dermafrac treatment will be $180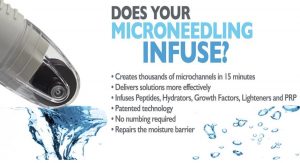 ---
---
Introductory Offers 
* Purchase 3 x Dermafrac treatments for $500 and receive a Aspect Dr Starter kit valued at $140, free! A saving of $180 
*Purchase a package of 1 x Dermafrac treatment and 1 x IPL Rejuvenation Facial treatment for $320 and Receive a Aspect Illuminating Polish Exfoliant, 220ml ($64.50) FREE!
A saving of $144.50