Dermaplaning / Epidermal Levelling is a simple and safe procedure for exfoliating the skins epidermis and removing  fine vellus hairs  (peach fuzz) of the face.
Using a Medical Grade scalpel and a delicate touch, we simply abrade the surface of the skin using light feathering strokes. It is a great treatment for those who have excess vellus hair on the skin, as hair often creates a dull, lifeless appearance with possible buildup of dirt and oils in the follicles, so removing the facial hair, this gives the client brighter, smooth, healthier looking skin.
Dermaplaning does not affect the actual hair follicle. Every individual hair follicle has its own individual DNA, which we are born with. This will determine whether it is vellus (light, thin) or terminal (thicker, darker). Terminal hairs are predetermined, they tend to appear due to hormone changes i.e: pregnancy, menopause and hormonal abnormalities.
True, once the hair is cut, it has a blunt edge. But this blunt edge does not mean that the hair structure itself has been physiologically altered. So therefore, Dermaplaning does not affect how your hair would regrow. It will grow back at the same rate and texture as before the treatment. 
What are the benefits of Dermaplaning?
• Instant improvement to skin tone and texture
• Skin will appear softer to the touch and smoother in appearance
• Brighter complexion with a more youthful glow
• Active ingredients in skin care products penetrate more deeply improving your results
• Removes vellus (Facial Fuzz) hair
• No pain – just a light pressure
• No chemicals, unless you choose to have a peel afterwards for deeper exfoliation.
• Make-up glides on easily, making it the ideal pre-event/wedding 
• Suitable for all skin types, even the most sensitive skins
• Assists in reducing blocked follicles (blackheads) and milia
• Can be performed on clients using Retinols (Vitamin A's)
• Minimal risk of post-procedure breakouts
• There is NO downtime – mild pinkness can be expected and slight sensitivity for 12-24hrs
• Safe for pregnant/lactating women
• Increases skins firmness and elasticity
• Minimizes fine lines and wrinkles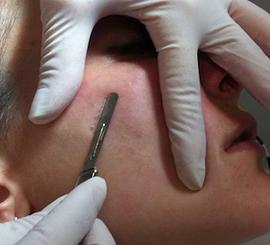 This treatment is a good alternative for clients with sensitive skin who are not suitable for Microdermabrasion. There is no down time associated with the treatment. The treatment can be used as a standalone treatment or in conjunction with a Medical Grade Peel for better penetration of product.
For best results we recommend a treatment 4-6 week intervals to keep the fluffy facial hair minimal and the skin brightened and exfoliate
Receive a medi-peel and LED treatment with each Dermalplaning treatment, for $99, write 'best deal' in notes to receive this discounted package.